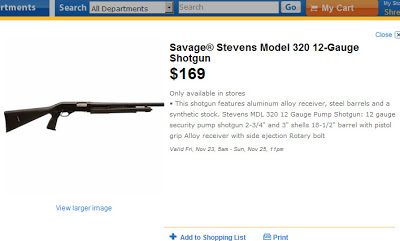 Just received this email notification from a long-time reader:
Walmart has posted their Black Friday sale and they included this Savage 12-Gauge at only 169 dollars. Not all stores will carry this. (I checked.)

I expect a back-order sellout.
And yes, I know it's made in the PRC, but then so is my daughter's pre-ban Kalashnikov and my other daughter's SKS. The Zombies won't care where it came from.
Here's a review from American Rifleman.
A shotgun that can do it all at a price that nearly everyone can afford, the Stevens 320 pump-action was designed for versatility and affordability. Available in two base models and eight total configurations, the 320 platform has variants that can fill all traditional shotgun roles, from tactical to hunting. Imported by Savage Arms from China, the Stevens' design is inspired by the Winchester 1300, ensuring simple, reliable functionality. Priced below the $300 mark, the new offering should appeal to armed citizens and sportsmen alike.

The 320 line is comprised of Security and Field models. All the shotguns in the line are 12-gauge pump-actions with 3-inch chambers and side ejection, differing only in barrel length, stock design and sight configuration. The Security line variations have an 18 1/2-inch barrel and can be equipped with a pistol grip stock. Stevens 320s with the pistol grip are available with ghost-ring sights, bead sights or bead sights with a top rail and heat shield. Security models without the pistol grip feature either ghost-ring, bead or rifle-style sights. Field models use a 28-inch barrel with a ventilated rib and front bead sight. The final version is a Field/Security combo that comes with interchangeable 18 1/2- and 28-inch barrels, both with bead sights, and a standard stock. For our evaluation we tested the Stevens 320 Field model.

Upon initial inspection it is clear that the Stevens 320 was designed for utility; no frills here. The steel barrel and receiver are finished in matte black, and the polymer stock and fore-end are also black. The lines, as stated before, are nearly identical to the Winchester 1300 pump-action, in fact the most obvious design difference is that instead of checkering the grip, the 320 has straight-line grooves molded into the stock for purchase. The brass bead sight was easy to see when looking down the ventilated rib, and the shotgun pointed well and naturally. At the shoulder, this is not the lightest gun, but at 7 pounds, 11 ounces, it is not the heaviest, either. The overall length is just less than 49 inches, and the length of pull was 13 3/4 inches—certainly within the average range, but there is no means for adjustment. The semi-pistol grip stock is of standard specifications with a 1 3/4-inch drop at comb, and a 2 1/2-inch drop at heel. The hard rubber recoil pad, while serviceable, does not encourage long days spent breaking clays.

We found the Stevens 320 to have a surprisingly smooth action and tight lockup, achieved by a four-lug rotary bolt engaging the barrel extension. The pump-action is aided by the dual-bar slide arm assembly. The trigger assembly features an external safety button at the trigger guard's front and a slide lock release button just to the rear and on the left side. The trigger is not adjustable and required a firm 6-pound, 11-ounce pull. The 3-inch chamber will accept either 2 3/4 or 3 inch 12-gauge shells, and the magazine will hold up to four shells, though a plug is provided in order to limit capacity to two. Disassembly is uncomplicated: Unscrew the magazine cap, allowing the barrel to slide forward and off the slide arm; tap out the single trigger guard pin—located just above the trigger—in order to remove the trigger assembly; and remove the slide arm and bolt assembly.

For evaluation we used Federal Ammunition's 12-gauge, 2 3/4, 1-ounce Game-Shok with No. 6 shot. Over an RCBS AmmoMaster chronograph at 5 feet, the load yielded an average velocity of 1,312 fps with a standard deviation of 19. For patterning, 10 shots were fired at a target 40 yards distant. The shotgun proved quite capable, averaging a 71 percent hit-ratio within a 30-inch circle and 48 percent in the smaller 21-inch inner ring.

Technical evaluation complete, we tested the Stevens against some hand-thrown clay targets and a veritable hodgepodge of 2 3/4-inch, 12-gauge ammunition. Confirming our initial impressions, the 320 swung well and pointed true. It was not picky regarding ammunition, and we experienced no failures to fire in any part of the testing. A few birds were lost, however, due to improper feed or failure to eject. In these cases, the spent hull either was not ejected or, after being ejected the next round did not fully chamber. A little investigation revealed a solution that would remedy those and similar problems encountered with many economy priced pump-actions—elbow grease. This is not a shotgun to be handled lightly, in fact, within the limits of safety; the harder the better. A firm and energetic motion is required to reliably cycle the action and avoid the frustration that comes from watching bright orange saucers land, unbroken, in the field.

There should be no doubt that the Stevens 320 pump-action shotgun is purpose-built and priced to sell. With configurations intended for security and sport, shooters of all kinds will find a place in their safes for this gun. But don't expect it to stay there long, as a shotgun as rugged as this will be on the frontlines, doing the dirty work where you wouldn't think of using a prettier gun.
Importer: Stevens, Savage; (413) 568-7001; www.savagearms.com

Action Type: pump-action shotgun

Gauge: 12, 3"

Trigger: single-action; 6-lb. 11-oz. pull

Barrel: 28"; interchangeable choke tubes (modified included)

Sights: ventilated rib with brass front bead

Stock: Polymer; length of pull: 13¾"; drop at comb: 1¾"; drop at heel: 2½"

Magazine: four-round capacity, includes magazine plug

Overall Length: 48¾"

Weight: 7 lbs., 11 ozs

.

Accessories: owner's manual

Suggested Retail Price: $235 to $260 (depending on configuration)