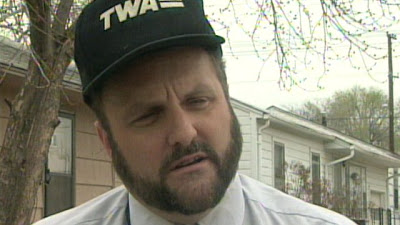 White Aryan Resistance leader Dennis Mahon.
Brent J. Budowsky takes Matt Drudge to task, "Dear Matt Drudge: Stop the race stories."
Budowsky is a former Democrat congressional hack/staffer and political opinion writer and blogger for publications including The Hill, the LA Progressive, and The Huffington Post. He writes Drudge:
Am I suggesting you are giving aid and comfort to those who are racist, or those who play the politics of race for partisan gain? Absolutely. You bet. A visit to the Drudge Report at any given time in recent months bears witness to story after story, time and time again, day after day, week after week, month after month, of a laundry list of stories with racial innuendo and suggestion and implication that I would like to believe are below the standards you would set for yourself and your profession.
I guess he's talking about stories like this and especially similar stories that make up Colin Flaherty's book "White Girl Bleed a Lot": The return of racial violence and how the media ignore it.
Presumably Budowsky finds books describing the unapologetic anti-white racist behavior of the Holder "Justice" Department such as Injustice: Exposing the Racial Agenda of the Obama Justice Department by J. Christian Adams objectionable too.
Now, place that into the context of the Democrat triumphalism about how "angry white men" are now going to be permanently disenfranchised by the new coalition of blacks and Latinos -- that 2012 was their last chance to use politics to impose their "racial patriarchy" on all those "people of color" and the LGTB folks.
If the statistics show that there is one heckuva lot more racially motivated attacks by blacks on whites (and they do), and that local, state and federal authorities are reluctant to bring those attackers to justice because it is not politically correct (see current Flaherty WND link above) AND that people like Budowsky are trying to get others to shut up about it -- essentially, to cover it all up -- then you've got a perfect petri dish for ethnic cleansing in this country. Did you think there was some sort of house rule against it? Why it is already happening in Los Angeles, with Latino gangs murdering blacks and driving them out of neighborhoods.
Back in the 90s, I was talking on the telephone to White Aryan Resistance leader Dennis Mahon, who was trying to convince me how easy it would be to start a race war in this country, "We'll just go into white working class neighborhoods in blackface and do drive-bys, then we'll clean it off and go into black neighborhoods and do the same thing." Mahon, who sits today in a federal prison, was convinced his plan would work. I didn't think so back then. Now, after 20 more years of PC and anti-white racism, especially after 4 years of the Holder regime, I think his plan just might work.
My sources say that the folks who are most tickled pink about the re-election of Obama are not Democrats but the intellectual leadership of the neo-Nazi and Klan organizations. They believe that four more years of Obama should give them the right conditions to enact ethnic cleansing.
If there is a confluence of a rising tide of racial violence from blacks and Latinos against white folks, and a deliberate refusal of the "legal authorities" to deal with it combined with a very real sense of complete political disenfranchisement, then some white folks -- prodded by the Klan and neo-Nazis -- may decide to settle the next election by driving out that part of the electorate beforehand. It has happened before in this country.
(See, among others, Redemption: The Last Battle of the Civil War or Buried in the Bitter Waters: The Hidden History of Racial Cleansing in America by Elliot Jaspin.)
My own history of fighting against the Klan and neo-Nazis as part of the Constitutional militia movement is a matter of record. (See also To Shake Their Guns in the Tyrant's Face: Libertarian Political Violence and the Origins of the Militia Movement by Professor Robert H. Churchill.)
But the titanic forces that the racists of all colors want to unleash and that politically-correct Democrat party hacks like Budowsky want to cover up despite the plain reality that everyone understands will sweep all the best intentions away as everyone begins to believe that people of a different color who are trying to kill them must themselves be killed in "preemptive self-defense."
And, somewhere, Dennis Mahon will be laughing.