[Previous entry: "Dave Davis on Israel"] [Main Index] [Next entry: "Badnarik is the LP nominee"]
05/29/2004 Archived Entry: "One guy who really needs gun control"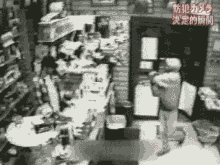 RICK SENT THIS WITH THE COMMENT "This guy really needs some 'gun control.'" The store clerk seems to have his "gun control" down just fine, though. Quick wits, too.
Posted by Claire @ 12:33 PM CST
Link