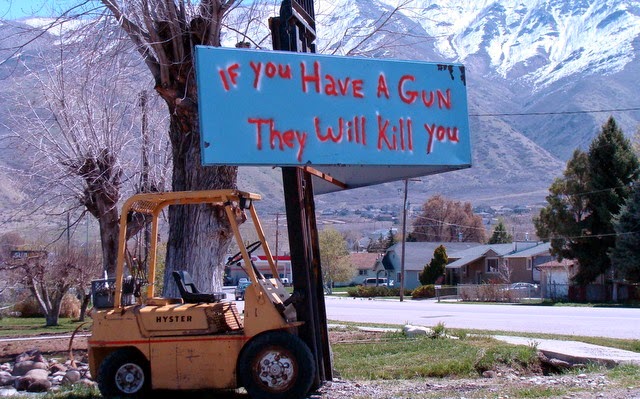 A resident of Santaquin, Utah, issues a warning about the local police.
Why, then, did this supposedly intimidated man park in directly in front of the driveway to the Watson family's home on March 29 of this year, after repeatedly driving slowly past their property? If he has been ordered – for his "protection" – to avoid any potential contact with Mrs. Watson, why does Black make a point of driving past her home practically every day?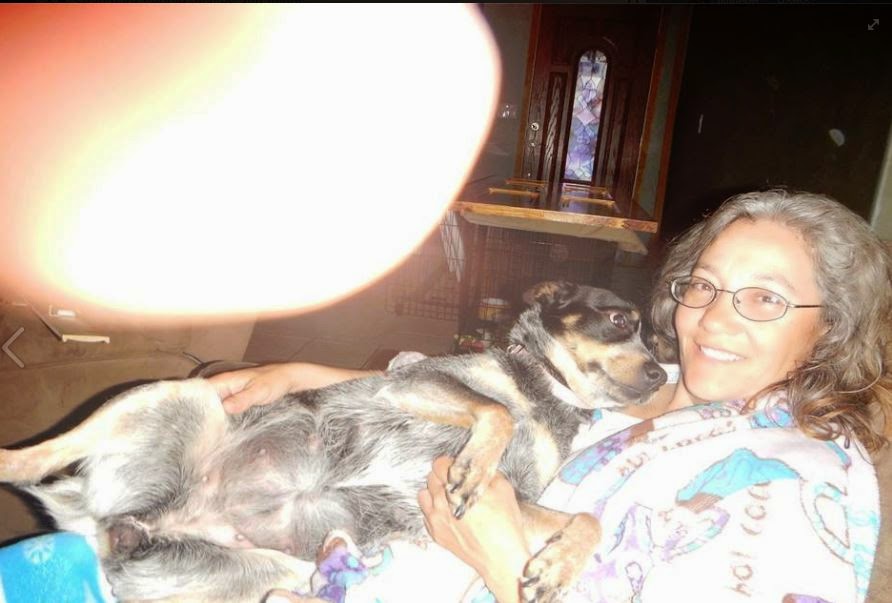 The woman who terrifies Officer Black:
Sherri with her dog, Shiloh.
After five years of unremitting conflict, stress, and anxiety, Sherri and her family are fleeing Genola, abandoning a beautiful house built by Sherri's father. Although they are reluctant to leave a home that they love in one of central Utah's most scenic locations, Sherri and her husband Tom are convinced that this is necessary.
"If we stay here," Sherri told me during an interview in her dining room, "I think physical harm is going to be done to me or to our kids. I'm literally afraid that we might get killed."
"He came over at about 2:00 a.m. and told us he was just coming home from work and could barely hear an echo of the music," recalled Sherri. "He told us that nobody had called to complain, but that he could hear the music and wanted us to turn it down, which we did. What he told us at the time was that `You can have your music as loud as you want after 6:00 PM until 10:00 at night, and nobody can do anything about it.'"
The Watsons acted on that advice, adjusted their recreational habits, and avoided any further involvement with Black until 2009.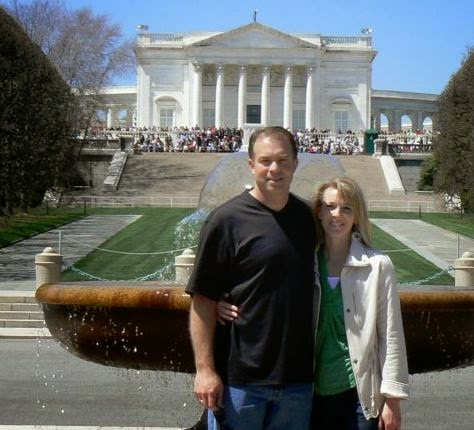 Officer John Savage with his wife.
The driver of the vehicle was John Savage, who at the time was employed as a fireman with the Orem Department of Public Safety. Savage sanctimoniously reproached Sherri for the "horrible" example she had set for her child.
"Two kids just got killed – my son is in the canal, and you want to tell me I'm horrible?" Sherri replied.
"Savage's boss told me that he had a good discussion with him, and that there would be no more problems with public safety," Sherri said. "Then his wife paid us a visit and brought us some cookies and apologized, which was a wonderful thing to do. I told her, `This is the end of it – I'll never mention this again.'"
The problem, Sherri contends, wasn't her music. It was the fact that "Chad Black and John Savage are buddies." After receiving a reprimand as a fireman, Savage joined the Orem Police Department. Either Savage, or Black, or both of them, apparently decided to make life miserable for an uppity Mundane.
In June 2009, Sherri was arrested on charges of "lewd conduct" – for dancing, fully clothed, in her garage during mid-day hours; "public intoxication" – for drinking beer on her own property; and two counts of "disorderly conduct" – one of which was issued to punish her for telling a Santaquin Police Officer that Black is a "corrupt cop."
Following the arrest, Black immediately contacted Sherri's supervisors at the Nebo School District to inform them of the charges against her. As a result, she was immediately fired from her job as a lunch lady at the school attended by her sons, Conner and Cody.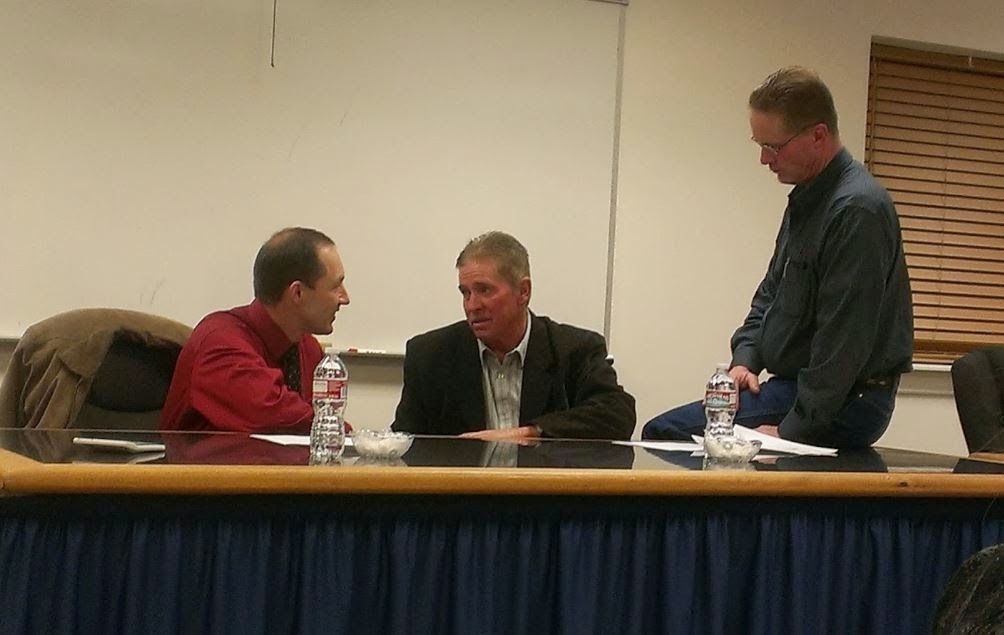 Former Genola Mayor Danny Throckmorton is in the middle.
"The day before I went to court, I called to find out what time my hearing, and we were told that Mayor Throckmorton was trying to get them to drop all the charges," Sherri reflects. "We had complained to him, and he stood up for us and did an investigation. The next day Chad Black showed up in his Orem police car, passed by my house at a crawl, did a U-turn, and sat near the house just watching us."
"I started to complain about him," Sherri continues. "The Mayor and the police told me I could videotape his actions to document harassment. Because he was employed full-time by the Orem and part-time as a reserve in Santaquin, the Utah County Sheriff got involved in the matter. The Sheriff's Office told me that every time I saw Black I should call them."
Weary of the abuse and persecution his wife was enduring, Tom Watson greeted the officers at the front door wearing a holstered gun. The family placed an urgent call to Mayor Throckmorton, who, Sherri testifies, told them: "Do not talk to them until I get there."
"Drussel was coming to the door with his gun drawn when Danny [Mayor Throckmorton] came zooming up on his four-wheeler," Sherri recounts. "He told them to stop harassing me and my family or he'd pull the contract" – in other words, that he would throw the Santaquin PD out of Genola. Grudgingly, the officers backed down -- but Tom and Sherri believe that someone on the police force retaliated against the mayor.
"It was after this that I was mowing my lawn and I saw smoke coming from Danny's property," Sherri told me. "I found out that his barn was burned to ashes. He and his wife told us that the night the fire happened they were told by the fire department that to find the cause, they need to look no further than the Santaquin PD."
Throckmorton, who is no longer Mayor of Genola, declined a request for comment. The woman who answered my telephone call told me that "he's just trying to put all of this behind him."
The Watson family has set up surveillance cameras that record every visit from Officer Black, who is under orders to avoid them and to report every incidental contact that occurs. Black attempted to get a court order forcing the Watsons to remove the cameras, but wasn't successful. This matters little, since his supervisors aren't inclined to punish him for violating the terms of the court order.
"He constantly drives by our house, but he never reports those contacts," Sherri laments. "After the injunction was issued, every time Black sees my car, or his kids see me at the grocery store, I'm reported to the cops." Tom and Sherri say that they have been reported to the police at least twenty times, and have had to endure numerous visits from the Santaquin PD.
"Last December 20, after Black called the cops, we had three squad cars pull up to our house," Tom Watson told me. "They started pounding on our door demanding to be let in." Among the officers who responded was Chief Dennis Howard." Tom locked the deadbolt and called attorney Ed Flint, who "told me I didn't have to answer the door."
"When someone is out there with guns, and your kids are hiding under their beds, you don't know what to do," Sherri told me, struggling to maintain her composure.
Eventually the officers left, much to the family's relief – given that Chief Howard had previously expressed a willingness to kill Tom.
"After the earlier confrontation with police at our home, Howard said that if he had been there when I came out with my gun in a holster, `I would have put you down,'" Tom informed me.
Since that incident in December, the Watsons have been spared another official visit by the police. But Black persists in driving by their home, in defiance of a court order and the directions of his superiors.
"When we went to complain to the Orem Police Department, we were told that there had been an investigation and that Chad Black had been 'cleared," declares Sherri. "We asked him, `Really? Did you talk to the mayor? Did you speak with all of our neighbors?' No – they only talked about this with Chad, and then decided that he had been `cleared.'"
Robb blithely replied that an unnamed POST official had spoken with Orem PD Chief Michael Larsen -- and that brief contact, as far as he was concerned, constituted an "investigation."
During his meeting with Tom and Sherri, Orem PD Sgt. Raab admitted that Black's persistent and unwelcome visits to the Watson home had been "documented," while assuring the couple that there was nothing inappropriate about the officer's malicious and vindictive behavior.
"I can't go outside" because of the injunction, Sherri wept. "I guess it's OK for a police officer to harass me."
Just a few days prior to the visit with Sgt. Robb, Sherri had received a phone call from police in nearby Payson. They were investigating a complaint from Black that Sherri had violated the injunction by shopping at a local grocery store while members of the Black family were there. Although the injunction acknowledges that "incidental" contact between Sherri and her purported victims would take place, Officer Black is exploiting every trivial encounter by filing a police report.
By going out of his way to drive past Sherri's house, and reporting every trivial contact that occurs elsewhere, Black is trying to make her a prisoner in her own home. His superiors and colleagues are aware of what he is doing, but because the victim is a Mundane they simply don't care.
"If he's driving by, that's his fault," acknowledged a Santaquin Police Officer during a recorded telephone conversation with Tom and Sherri. When Sherri pointed out that her sons are terrified of Black, the officer wryly replied: "None of us here in Santaquin are fond of him, either." This isn't because of Black's treatment of the Watson family, but because his actions prompted former Mayor Throckmorton to renegotiate the Santaquin PD's lucrative contract with Genola.
In March 2013, Sherri was nearly run off the road by somebody driving Chad Black's vehicle.
This stolid indifference to the rights of innocent people is one facet of the pathology of privileged violence that typifies law enforcement.