[Previous entry: "eBay auctions for Celata family"] [Main Index] [Next entry: "The sorrow of Lebanon"]
07/23/2006 Archived Entry: "Recumbent trike: My alternative transportation"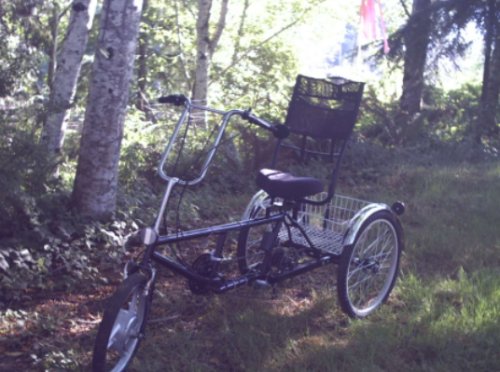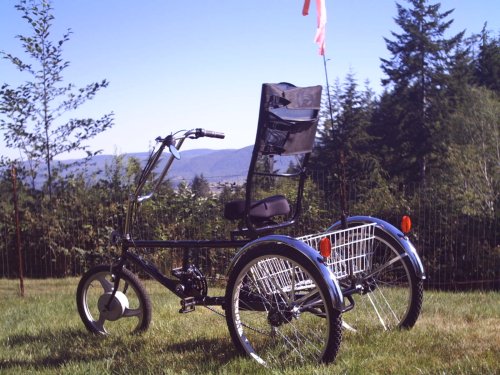 NEW WHEELS. About a year ago I began looking for a transportation alternative. My choice would have to be 1) affordable, 2) street legal with no drivers license, 3) street legal with no vehicle registration. In other words, a good Outlaw machine.
I wanted something that would replace my truck for around-town errand running -- that would haul groceries or library books up to Cabin Sweet Cabin and in a pinch haul a dog to the vet. It didn't have to be glamorous or speedy or high tech. Just useful.
It required a lot of help from my friends (special thanks to Dave Polaschek). It involved a couple of false starts and took much more time than I expected. But here it is: a recumbent trike hand-built by one of my neighbors. It has 14 speeds (supposed to be 21, but that's another story), rear disc brakes, front cantilever brakes, 24-inch rear wheels, and a 20-inch front wheel with a hub motor and wiring for electric-assist. All I need to do is add batteries. By next year I'd also like to have a trailer.
Boy, am I going to need that electric assist for hill climbing. I've tried only the most modest up-slopes so far and my poor legs! But so far I'm liking this.
The original TCF discussion of transportation alternatives is here. It contains a lot of ideas, should you be looking for a way out of $40 gas fillups. (Also contains a fair bit of useless but entertaining info.)
A bit more on my own adventures in Recumbent Trikeland is here.
Posted by Claire @ 12:20 PM CST
Link