[Previous entry: "President hides from cloud"] [Main Index] [Next entry: "Hardyville: When cops don't take "no" for an answer"]
04/30/2005 Archived Entry: "At last! -- Rebelfire: Out of the Gray Zone (a novel by Claire Wolfe and Aaron Zelman)"
WEEKEND READ.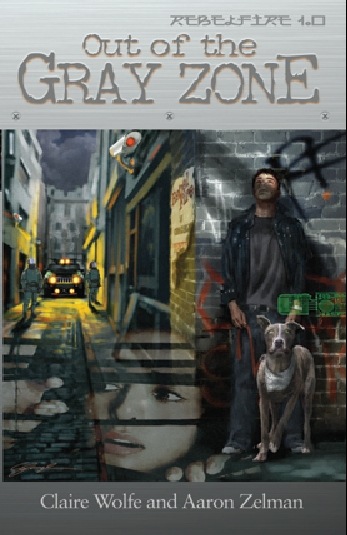 He's just a kid.

Trapped in a world where everybody is watched.
All the time.
Where everything is controlled "for your own good."
Where dreams are dulled with drugs.
Where there's no way out.

But Jeremy wasn't made to be controlled ...
Enter the world of RebelFire
http://www.rebelfirerock.com
Experience the book.
The first four chapters are online.
Hear the music.
The RebelFire song "Justice Day" -- as interpreted by two new rock artists.
Join the rebellion.
Books begin shipping May 20.
Pre-orders begin TODAY.
Very, very cool (sexy black and silver) RebelFire tee-shirts are ready when you are
Autographed books for the first 100 purchasers!
(NOTE: 5/20 First 100 are already sold -- sorry.)
Introductory offer
$5 off when you order the book and the (hot, sexy, black, silver) RebelFire logo tee-shirt to be
delivered together. (Delivery of the book-shirt combo will be after May 20, when books begin shipping.)
-----
Novel by Claire Wolfe and Aaron Zelman
Website by Debra Ricketts
Music by Rockne Van Meter
Music by Opium War
Lyrics by Claire Wolfe, song concept by Aaron Zelman
Cover illustration and design by George Angelini
RF logo by George Angelini from a concept by Aaron Zelman
Book design by Garn Turner
Experience it all at http://www.rebelfirerock.com
-----
Yes, the long-awaited, much-rumored, much-teased-about Great Mystery Project has arrived at last.
It hasn't yet been officially launched. Readers of Wolfesblog and The Claire Files forums are the first -- the very first in the world -- to know.
This one is for you ... and for the kids who'll need all their courage to triumph over the future.

Posted by Claire @ 12:05 AM CST
Link