[Previous entry: "ATF screws some more innocents"] [Main Index] [Next entry: "Camera-ban story untrue? But life imitates satire."]
05/28/2004 Archived Entry: "Funny French label"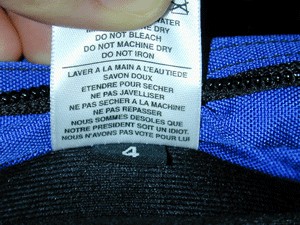 IF IT'S FAKE, DON'T TELL ME. Atek3 sends around this pic of a label from a laptop computer bag, manufactured in the U.S. and exported to Europe. The label says:
Wash with warm water.
Use mild soap.
Dry flat.
Do not use bleach.
Do not dry in the dryer.
Do not iron.
We are sorry that our President is an idiot.
We did not vote for him.
NOTE: Whoohoo! Brig (Howdy, Stranger!) writes to say it's not only true but that the label doubled the company's sales. And here's the company, Tom Bihn Bags in case you want to buy or browse. The bags are exported. But you can also buy them stateside. Bihn has created a t-shirt with the label; proceeds from sales of the shirt will be donated to the Seattle Vet Center to be used for its homeless veteran program. Bihn claims -- although perhaps not entirely with a straight face -- that the president referred to is not George Bush, but Tom Bihn himself.
Posted by Claire @ 08:51 AM CST
Link