[Previous entry: "Desire to smash a bureaucrat"] [Main Index] [Next entry: "Lawful money tucked in a drawer"]
05/14/2004 Archived Entry: "Kerry ad to send Bush packing"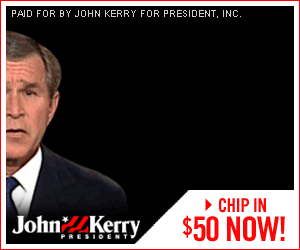 FINALLY, SOMETHING INTERESTING COMES OUT OF THE CAMPAIGN. I still wouldn't take the side of either of these government-loving poseurs, but this is the first actually clever campaign ad I've seen in years & years. At first I thought it was a parody, but it appears to be the real thing. Nice way to get small donors to kick in.
Posted by Claire @ 11:58 AM CST
Link