Before there was the current rich supply of ultra compact 9 mm pistols, someone had to have the idea for the first time. In fact, the idea of a small 9 mm carry gun was widespread long before any factory produced one.
The market answered, after a fashion: cut-down versions of pistols were produced. Some of them weren't cut down much, like the P-38K and the Colt Commander. Others were not really practical, like Baby Lugers, and always appealed more to collectors than self-defense carriers.
But the natural host for these first-generation pocket nines in the 1970s and 1980s was America's first pistol designed for what was then a European cartridge, the 9 mm Smith & Wesson Model 39. The M39 was a postwar design that sought to blend European and American design concepts, and not only did that but produced an attractive firearm at the same time. It combined a Browning-style tilting-barrel, and a Walther-like SA/DA operating system with a slide-mounted safety/decocker. Mag release and slide stop were also Browning style, and the barrel was positioned in the nose end of the slide by a collet bushing modeled on the one in the Colt Gold Cup.
The M39 was single-stack before single-stack was cool, and entered the market in 1954-55 after years of development. If you want to foray into the weeds of Smith auto pistol history, Chris Baker took a shot at decoding Smith's nomenclature mess with the M39 and its legions of successors at Lucky Gunner Lounge last year, also producing the infographic on the right, which appears correct but incomplete.
But the reason that the M39 yielded those early conversions were (1) it was readily available, and (2) there was nothing vital and hard to relocate in the parts of the gun that a compact conversion hacked off. This picture from an S&W forum shows three cut-down 39s: from l-r, an Austin Behlert special on a Smith 59 (basically, a double-stack 39), a full Devel on a 39 with ambi safety, and a full devel (no ambi safety) on a 59.
The first, and most exotic small Smith was the ASP, made beginning in 1970 by New York artist and espionage agency hang-around Paris Theodore, who partnered initially with George L. Nonte. This ASP picture comes from the same forum as the shot above, and illustrates the somewhat industrial finish on ASPs.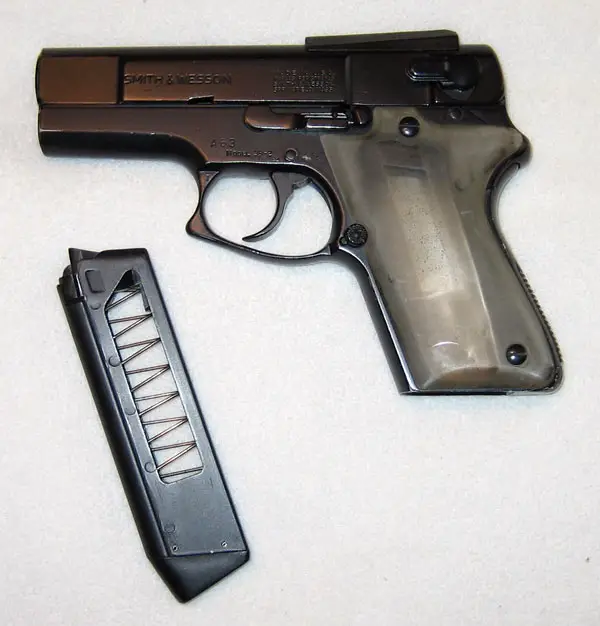 The magazine was patented, specifically for the unusual laid-back pinky rest. The open side made the transparent/translucent segment of the grips practical.
One of the ASP features that will never show in a side view is that about 40% of the width of the reshaped trigger guard was milled away on the strong side of the customer, to provide faster access to the trigger. Theodore claimed that an ASP had 212 modifications from the factory M39.
Theodore's spy stories seem to have been cut from whole cloth, but he died young — here is an interesting, if credulous, obituary in the late, lamented New York Sun. A definitive ASP was trimmed in height and length, dehorned and softened in its angles, and fitted with a patented "Guttersnipe" trough sight and see-through grips to facilitate round counting.
The Devel was devel-oped (you may groan) by Charlie Kelsey. They tended to be better finished and often had fluted slides to reduce weight. Here are three Devels, a 59 and two 39s.
This is a Devel on a Smith 39-2 from a current GunBroker auction, but supplied with two ASP magazines.
The seller says this about it:
Smith & Wesson Model 39-2 Devel Custom chambered in 9mm with a 3.5″ barrel. Used but in good shape! Frame and slide have some handling wear, couple scratches, and little bit of finish wear around the edges. Comes with two hard to find ASP magazines! Please look at the pictures for details.
The cut-down for Devel and ASP alike was usually 3/4 of an inch to the barrel and slide, and about a half inch to the butt. The package usually included replacing the collet bushing with a plain bushing, on reliability grounds, and bobbing the hammer.
As you can see, the gun is not only shortened but also "softened" or "dehorned," but it's not what Devel called a "full house" custom, as it lacks the squared-off trigger guard and lightening flutes in the slide.
Factory compacts like Smith's own 3913 crippled the market for these niche firearms, and both ASP and Devel folded, victims of the success of their own product.
Like Paris Theodore, Charlie Kelsey died prematurely, but while Theodore lost a long and debilitating battle with disease, Kelsey was found shot and burned in a ditch in Georgetown, Texas. While there were indications he may have been suicidal, he certainly can not have set his own dead body on fire. His murder has never been solved.
Of course, true Dedicated Followers of Browning would not be caught dead with a 9mm flyswatter: their pistol-shrinker of choice was Detonics, or Behlert (who called his bobbed .45 the Bobcat). But that's another story!