Recently, we expressed our dismay that the Administration has offered the release of traitor and spy Jonathan Pollard as a consolation prize to the Israelis, for getting Tel Aviv nuked at some future date, which is the intended outcome of his Iran deal. (Intended, at least, by the Iranians, who are not being subtle or dissembling about their intentions, at least, by Iranian standards of dissembling, which are at variance with those of the civilized world).
Now, the President does not read WeaponsMan.com (although rather a lot of his underlings come here, some to support us, some looking to undermine us). And he probably doesn't much care what former Secretaries of Defense say, but the last President who was looking to spring the egotistical turncoat got this letter:
Even Nixon's relatively ineffectual SecDef, Mel Laird (never to be forgotten in SF circles over the initial Green Weenie for the Son Tay Raid participants) signed the thing.
In the early days of the Bush Administration, Israel lobbyists tested the waters again, producing another letter, this one from Rummy alone: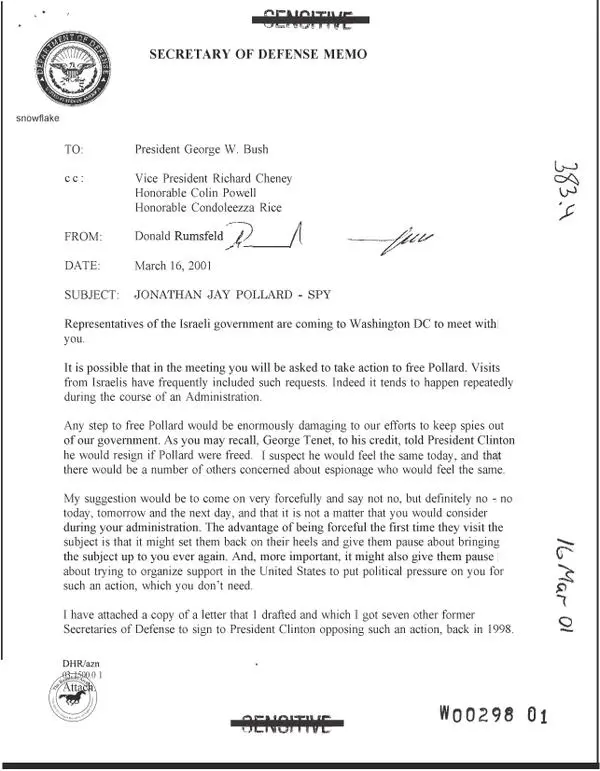 We were reminded of the letters by the brusque, abrasive — and brilliant — former SecDef Don Rumsfeld himself, who tweeted:
Releasing Pollard was a bad idea in 1998 & 2001. It is not a better idea today.
Warming to the idea, and perhaps missing the Snowflakes he used to distribute to his stressed minions at the Pentagon, Rumsfeld tweeted again:
Releasing spy Jonathan Pollard doesn't make the #IranDeal any less of a disaster for Israel & the free world.
And again:
WRT release of notorious spy, Jonathan Pollard, remember: if u want more of something, reward it & if u want less of something, penalize it.
That is a sentiment that anyone who has ever been in the beaten zone of Rumsfeld has heard a few (dozen) times. (We have a friend who was at the Pentagon and loathed Rummy as a person even as he mostly agrees with him on policy).
And again:
Spying ought not to be rewarded. #Pollard
You know, Washington never had anyone bugging him for the release of #MajJohnAndre. 
As Rummy might put it, If you penalize something (like, say, letting spies live) you get less of it (as Americans grow weary of those with divided or foreign loyalties pleading for spies, and take more resolute action against future spies); if you reward something (say, arguendo, hanging them, removing them as a symbol for the disloyal) you get more of it.
And the incentives work another way, also. It's indisputable that if you make the penalty for espionage a short walk off a long platform, attenuated only by a noose affixed to a solid object overhead, or the opportunity to personally close a high-voltage circuit, you get less spying from that individual and from any other rational actors who are paying attention.