We can't discuss machine guns on this site without someone — usually Kirk — reminding us that the GI M122 tripod is rudimentary junk, and the class of the tripod world was the German Lafette 42. We'd like to steer those interested in these 'pods to the incredible Lafette 34/42 web page of "Bergflak" ("Mountain AA") who is posting his work in progress on these amazing feats of German engineering.
How complicated was it? These are the parts of the lower half of the MG.34 Lafette. (The lower half of the MG.42 version was fundamentally identical).
Not complicated enough for you? Here's 100-odd more parts from the Oberlafette, or upper half.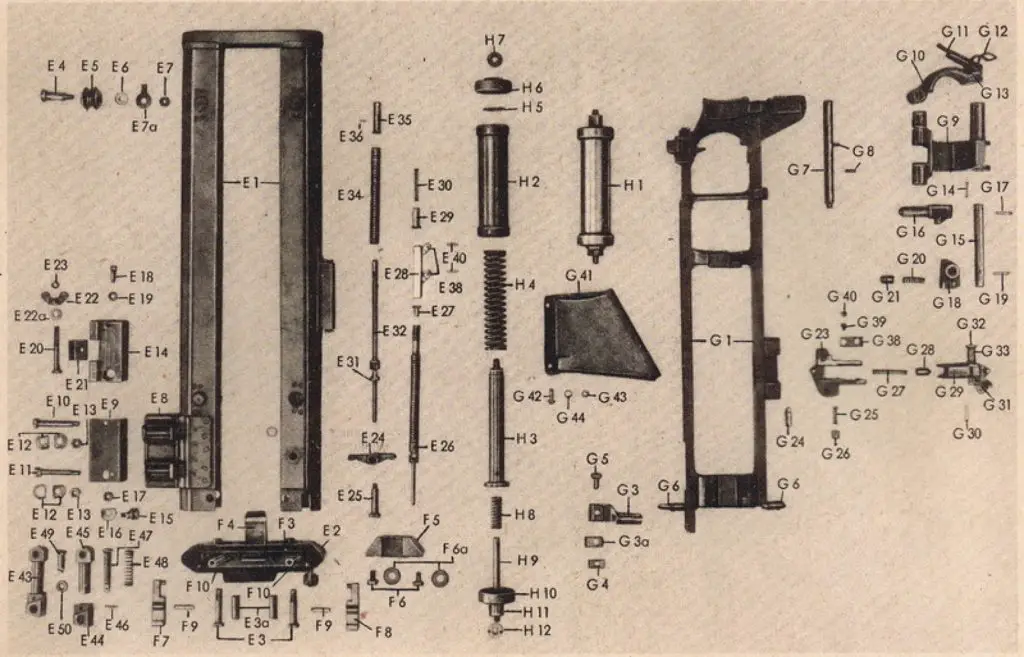 But wait, there's more! 70-something parts that comprise the T&E mechanism.
Here's a brief blurb from Bergflak:
The MG Lafette was a pretty complicated piece of machinery for its time. Some would say "typical German over-engineering". It contains several systems that all work together. The difference between the Lafette 34 and the Lafette 42 is mainly the cradle. The weapon mounts and the trigger mechanism are simpler on the MG42 cradle. In addition it has a different bolt box. Everything else seems to be identical.  This page will only describe the Lafette 34. The change from the Lafette 34 to the Lafette 42 will be fully dealt with on the Wartime development page. On this page I will briefly explain the function of each of the components that make up the Lafette. For an even better and deeper understanding of the components you must visit my page Extreme details or the pages about Evolution of the Lafette (when they are finished).
via MG34 Lafette construction and details.
These pages explain which each part does, and pages on the evolution of the MG-34 and MG-42 Lafettes actually are complete now. Unfortunately, the page explaining the usage and employment of these tripods is not yet complete.
The whole site is worth reading already, and it stands to reason that as more information is acquired and analyzed, the site will just keep getting better and more useful.