Social Security Number Not Required
by
DaOptimist
I recently received my EMT license in one of the largest counties in America. This is not necessarily a huge accomplishment, however I managed to receive this license without having to use a social security number. I am going to tell you how I acquired my license without submitting the required number and how you can do the same whenever you are told, "I'm sorry, we can't help you. A social security number is required.
[ ... ]
The result of this was that I obtained my license without having to obtain a socialist number. Not only that, but according to the licensing department's original claim, I achieved the "impossible." In addition, I received a very nice congratulatory e-mail from the head of the licensing agency for passing my licensing exam with high marks and I was thanked for my "kind words and understanding."
The full version of this article, complete with any images and the ability
to post comments and submit feedback, is a subscriber-only feature.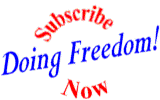 Copyright © 2003 by Doing Freedom! magazine. All rights reserved.